"Baaa-yeah!"
-Baa Baa Baa Sheep, Count With Me
Baa Baa Sheep is a member of the Mother Goose Club, and one of the main characters. She is based off of the nursery rhyme, Baa Baa Black Sheep. She is portrayed by Ivy Rhodes.
Personality
Edit
Baa Baa is a super bubbly sheep who loves to ham it up when she sings. Vivacious and cute, Baa Baa always has a smile on her face and a twinkle in her eye. A bit of a jokester, Baa Baa's dancing is big and silly, and she loves to laugh her big belly laugh, "baa haahaa!" - original www.mothergooseclub.com description
Baa Baa's love of fun, singing, dancing and rhymes set an example for the rest of the club. As a sheep, she can't help but let out a "baa" every once in a while. She's just baawesome! - new www.mothergooseclub.com description
Baa Baa is a spunky sheep with a heart of gold who loves to sing and rhyme more than anything. This big sister of the gang is everyone's friend and is just "baawesome"!-Foothill Entertainment description.
Baa Baa loves to sing, and does it all the time. in Farmer in the Dell, she sings opera. She is sociable, and has lots of friends other than the MGC. She is playful, silly, and mischievous, as seen in Hickory Dickory Dock Rocks. She is also very smart, as she knows how to rhyme lots of words. In Count with Me, it is revealed she plays guitar. She works for Black Sheep Wool Co. She is the Red Baseball Team. She has been to United Kingdom, Vietnam, Brazil, Sweden, and Argentina, as seen in Auld Lang Syne. She is best friends with Bo Peep, but she also has a close relationship with Teddy. She also loves to knit.
She is hyperactive, comedic, and silly. She doesn't like rules and is very carefree and creative. She is also very sensitive and emotional.
However, in later videos, her silly childish behavior is left behind and she is shown to be protective of her friends, especially Eep, and she is super strict, Baa Baa is also more smart and can trick people, for example, she got Eep to not go into the haunted house by convincing him that the neighbors have cheese-flavored candies.
Baa Baa is a sheep with pink wool. Her cheeks are pink-purple. She has purple sleeves. She has purple bloomers with green trimming, purple and lavender leggings, and purple shoes. 
Appearances
Edit
She is in 37 videos, 41 if you count the animated Mary Mary, Quite Contrary, the other Auld Lang Syne, Football Rocker, and Navidad, Navidad
Relationships
Edit
Little Bo Peep
Edit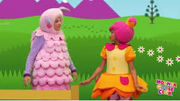 In Baa Baa Baa Sheep, Bo Peep is shown giving her a haircut, meaning that she is Baa Baa's personal haircutter. They also have a connection of some sort. Baa Baa is a sheep, and Bo Peep is a sheperd, making them best friends. In Bo Peep's signature song, Baa Baa helps her find her missing sheep. They are also 'pretty maids' in Mary's garden. They are almost always together.
Teddy Bear
Edit
Baa Baa and Teddy have a close relationship with each other. In the theme song, they put their arms around each other, and they also do in Auld Lang Syne. In Baa Baa's Rhyme Time Bonanza, Baa Baa knitted a scarf for her. They are also the tallest members of the MGC. They are almost always together as well. On MGC's facebook page, they showed a picture of Ivy Rhodes and Rachel Hockett hugging each other
Jack B. Nimble
Edit
In Baa Baa Baa Sheep, Baa Baa gives a bag of wool to Jack, referring to him as the 'little boy that lives down the street'. Also in ABC Song, they put their arms around each other. In Baa Baa's Rhyme Time Bonanza, Jack told a joke to her, but she started to cry, and Jack comforted her. In Freight Train, they were next to each other. In Row Row Row Your Boat, she invited Jack on a boating trip. It is possible that she may like him. Go to Baa Baa X Jack to learn more
Mary Quite Contrary
Edit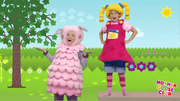 She is constantly seen towering over Mary, but they are good friends nonetheless. She likes to play with Mary and teach her things as seen in videos like This Little Piggy, and Baa Baa's Rhyme Time Bonanza. In Teddy Bear Boogie Woogie, they did the dance together.
Eep the Mouse
Edit
They are both animals, and even though she is taller than him, they are good friends. They were also in a video together, just the two of them: Count With Me. They are nearly always in the same videos, like Day-O, Clap Your Hands, Freight Train, and Row Row Row Your Boat. They may have crushes on each other.
In A Haunted House on Halloween Night, she is shown to be extremely protective of Eep, as she wouldn't let him go into the haunted house. She has also grabbing him, indirectly hugging him at one point, implying that she likes him.
Go to Baa Baa X Eep to learn more.
Her signature song is Baa Baa Baa Sheep.
She, Teddy, and Eep are all human-animals
She is the only human-animal character not to have a striped stomach.
She is the second tallest member of the MGC.
She has appeared alone in videos with Bo Peep, Mary, and Eep, but not Teddy or Jack.
Her family is yet to be seen.
She can drive even though she is a kid because things are different in the Mother Goose World.
Her best friends are Bo Peep and Teddy.
She is the only character to have been seen crying.
Many fans compare her to the My Little Pony: Friendship Is Magic character Pinkie Pie because they are both pink and crazy, but they can both be very strict and serious at times.
She got a knitting set for Christmas.
Her costume is altered a bit as seen in A Haunted House on Halloween Night.
The gallery for Baa Baa Sheep may be viewed here
Ad blocker interference detected!
Wikia is a free-to-use site that makes money from advertising. We have a modified experience for viewers using ad blockers

Wikia is not accessible if you've made further modifications. Remove the custom ad blocker rule(s) and the page will load as expected.